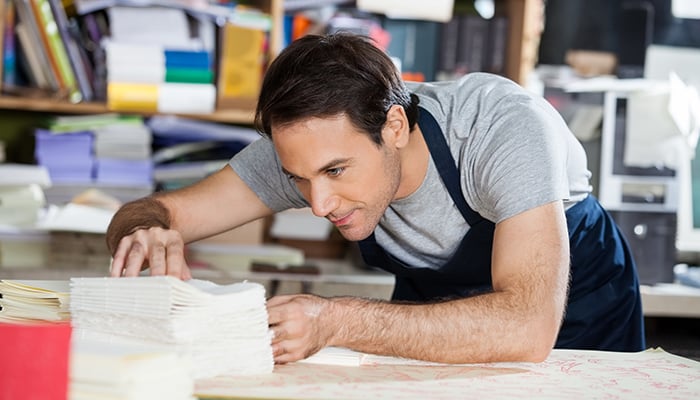 Automatic feeding systems are the answer to companies wanting and needing a better way to feed material and product into key equipment.
Whether you need more employees and can't find them or need to utilize the employees you do have more efficiently, feeding systems are the best way to keep your production running while allowing for little operator interaction.
Making the Cut With Automatic Feeding Systems
Die cutting equipment often requires an operator to stand at the cutter all day hand feeding material. This manual operation can be slow for production and cause severe long term ergonomic issues for the operator. Some materials can be heavy and large, making them a hazard to handle.
A solution to address the issues associated with the manual loading of materials into die cutters is the use of automatic pile feeders.
These indexing pile table feeders can hold up to a 25-inch stack of flat sheeted material including: polypropylene, poly-carbonate, cardboard, foam board, paper and card stocks. Operators load material onto the feeder's pile table, and the feeder will begin top sheet feeding individual sheets into the die cutter.
The feeding can be set by timing or signal communication. The feeder continues to feed requiring very little operator assistance or supervision until the feeder's pile table is empty.
The feeder in this application has reduced the need for consistent operator involvement and improved die cutter production.
Treating the Issue With High Powered Corona Treaters
Surface treating materials improves the wettability and adhesion of inks, coatings and adhesives. These high powered corona treaters are widely used on materials ranging from films to foils and paper.
Most treaters provide their surface treating magic on inline roll forms, but there has been a rising demand for standalone corona treaters.
Standalone treating systems provide customers more flexibility on the materials they can treat, including the ability to treat sheeted stocks that are not processed on a roll form.
Including an automatic feeder to these standalone treating systems allows for long production runs requiring limited operator interaction and keeps the treater running with a perfectly timed supply of product.
How Baumfolder Automatic Feeders Can Help
In both of these applications, Baumfolder was able to provide high-quality feeding equipment that provides maximum ROI through improved efficiencies and labor.
Baumfolder produces a wide variety of feeding options that utilize pile and continuous technology, as well as more simplistic in- and out-feed conveyor systems.
These options can be tailored to meet the production needs of most any flat sheet operations.
Contact Baumfolder today to ask how our feeding solutions can help your production by calling us at 800-543-6107, emailing sales@Baumfolder.com or visiting www.Baumfolder.com/Contact.