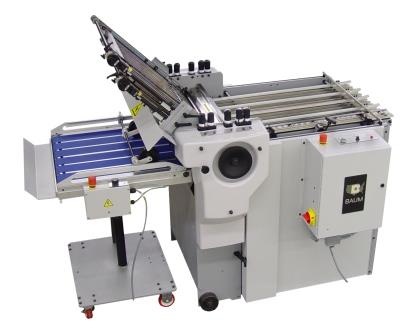 Do you have the perfect sheet burster, cutter, laser printer? But need to add finishing options that will complete your processes and streamline your operations.
In-line folders (INF) are a great way to bring state-of-the-art paper folding technology to help complete your printing, and document solutions. INF does not come equipped with any sheet feeder, allowing the register to align seamlessly with multiple types of equipment.
The Baum20 INF is a variation of the already proven and popular Baum 20 pile and continuous feed folders.
Heavy-duty and maximum quality with options
The Baum 20 INF comes standard with heavy-duty 1-1/8" diameter slitter shafts for precision slitting. This slitting availably allows you to maximize your production output. Material can be printed and cut to size all inline and without multiple handling of product.
The Baum INF can provide additional finishing options to your processes. In plate gluing is a great option to produce self-mailers with spot gluing; the mailing industry continues to demand large volumes of product and gluing is at the heart of most mailing applications.
Folding!
Like all Baumfolder equipment, the Baum 20 INF is right at home with handling high speed, precision folding. The INF can handle sheets sizes up to 20.5" x 31" and has a finished minimum fold of 4" x 2". The INF runs at speeds up to 8200 Inches per minute.

The Baumfolder INF is the perfect solution to many finishing inline problems, Call Baumfolder Corporation today and found out our INF can fit in with your needs.